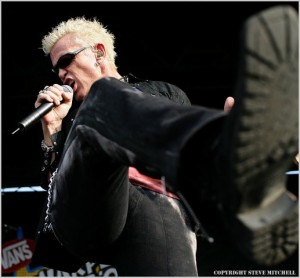 ~ Review by Becky "The Trivia Queen" Thorvund
(Part 1)
Billy introduced three new songs: "Love Is Strange", "Scarred For Life", and a very touching "Kings and Queens of the Underground", a nod to his career and a sort of love letter to his fans ("But if you're here tonight and you hear these sounds, then we are still kings and queens of the underground").
As on his last jaunt to the Bay Area, he included "King Rocker" and "Runnin' With The Boss Sound" from Generation X's second (brilliant) album, "Valley of The Dolls" and for this part of the show, he appeared onstage in a shirt and jacket reminiscent of those halcyon Gen X days, all stenciled and spray-painted, very DIY. Billy confessed that Gen X only did a three-week tour in support of "Valley of the Dolls" so he's performing these songs more now than he ever did when they were new.
(Part 3)