I recently ran across an Internet advert for Mono cases, and found that Mono has created a couple of very hip bags for drummers, the M80Cymbal and Studio Stick bags.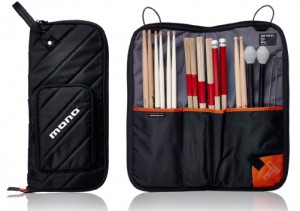 Upon initial inspection of the M80 bags, I read this on the attached product labels. Waterproof Sharkskin shell? What the…upon reading further I found the following statement.
"This case is animal free :)"
The bags look as good up close as they do in pictures on Monocase.com, and were designed rugged. I play a vintage Premier kit that sports a couple of suspended toms. I've never wanted to hang a stick bag from either of these toms. The stand for said toms is a road worn, so I've always been concerned that a stick bag might be more weight than than my 18″ tom needs hanging from it. I took a chance anyway.  The bag proved to be light weight, no problem for my aging suspended tom stand. The Studio Stick bag comes with bungee straps that easily stretch to fit the lug nut spacing of any drum. I'm sure it was by design, but the bag stayed surprisingly snug and close to the drum from top to bottom, even with the drum mounted at an angle. Mono also had the forethought to integrate special drum key and accessories pockets. The accessories pocket is a great place for cards, cell phone, keys, etc. However, it was a spring-loaded hook made for holding car keys (I think) that caught my attention. I often remove my wedding ring when playing, in order to avoid bending it on a rim while occasionally playing bare handed. That little spring loaded hook is perfect for such an unlikely need.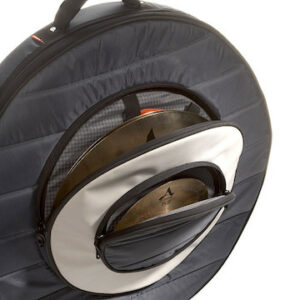 I was really anxious to try the cymbal bag. I've been a Zildjian Cymbal Safe guy forever, and I'm partial to the hard exterior of the Cymbal Safe. However, I loaded the Mono cymbal bag with two Zildjian rides (22″ and 20″), a crash, a splash, Sabian hats, hi-hat clutch and a bulky mountable tambourine in the exterior pocket, more than I typically carry to gigs. Fully loaded, the bag proved easy to carry and is padded in such a way that my gear felt well protected. Unlike my Cymbal Safe, the M80Cymbal bag has a soft interior, three cymbal compartments (the largest of which has dividers) and separate hi-hat compartment with accessory pocket. Arguably the best feature of this case is that it comes with easy-to-adjust backpack straps for super-easy carrying. Nice!
Mono built these cases to be resistant to the elements and abrasion. They definitely feel and function like high quality gear. Mono got it right on both of these products. The Studio Stick bag and M80Cymbal bag are currently offered for $69.99 and $139.99 respectively at Monocase.com, mid-range pricing for bags of similar style.