Sometimes it strikes me as plain crazy if not a shame to see what's become of the music industry. Mind you, I type as I listen to tunes on Google Play; and I've done everything from Napster to Spotify. Go ahead, call me hypocrite now. I'd deserve it. Strange still is that Pandora is working to target ads based on songs we listen to. During their years of crafting playlists for us, Pandora has also been working on crafting targeted ad content. They've gotten pretty darn good at creating playlists for us. In fact, they seem to  do a  a better job at creating playlists for me personally, than I've ever managed to do on my own. There's something to guessing what I might want to hear, and helping me discover music. Perhaps they'll be equally good at creating relevant ads for their listeners. Years ago, relevant ad content was simply merchandising content from the artists. Maybe Pandora and others should give us more ads like that. I seldom see ads for good band posters, decals or action figures. Then again, does anyone give a damn about artist swag anymore?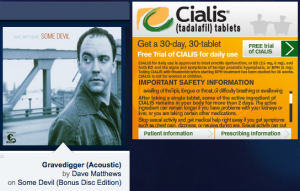 The craziness of it all is the new age of music commercialization and the new monetization of music. From what I understand, few artists make any money unless they tour like bandits; and even then, they have to not only be a great live band, they have to actually be hugely popular. I've also gathered that recording artists do not make money selling music these days. Music has become disposable while becoming digital. Perhaps if bands got back to the good old days where they actually played their material in the same room before and while recording, that might change a little; but I digress. Will recording artists capture revenue from relevant ads? Probably not.
So music has devolved a wee bit further into playlist-algorithm driven ad content. It's plain crazy I tell you. Read more about what Pandora is using our playlists in this NY Times article Listen to Pandora, and It Listens Back.