Today, the world of rock music and entertainment was shocked by the death of Jimi Hendrix Experience drummer Mitch Mitchell. Although saddened by the news, his death brings back great memories from my earliest days of drumming. Along with John Bonham, Mitch Mitchell was one of my earliest influences. At the time, I had no idea what fusion drumming was; and although I recognized the unmistakable jazz influence in his style, it didn't register for me that he had in fact laid the ground work for a style that truly put the drums out in front. His stick work was as fast as could be heard on any rock record of his generation and remains among the fastest in all rock recording. Stylistically, I've truly not heard anyone like him since. I'm still blown every time I hear Fire and If 6 Was 9. As a young drummer, I found learning Mitchell's chops challenging and would likely still be challenged to learn them today. Because the drums are so clear in recording quality, Axis: Bold as Love has always been my favorite Hendrix album. As I write, I'm listening to track two (Up from the Skies) from Axis: Bold as Love, a true sample of Mitchell's jazz roots.
Mitchell had spent recent months on the Experience Hendrix tour, which was a celebration of the music and life of Jimi Hendrix. The tour recently featured Buddy Guy, Jonny Lang, Kenny Wayne Shepherd and Eric Johnson, along with many other noteworthy rock and blues guitar greats. A DVD compilation release Experience Hendrix captures the tour in what Blog Critics Magazine calls "an extremely well-crafted showcase of superb talent." Another performance worth catching is Mitch Mitchell with the impromptu group "Dirty Mac," formed for the Rolling Stones Rock and Roll Circus film, in which Mitchell performs with John Lennon, Eric Clapton and Keith Richards.
Although I have all the great memories, I'll have to start scouting out DVD footage that captures Mitchell's performances, old and new. Thanks for the memories Mitch.
~r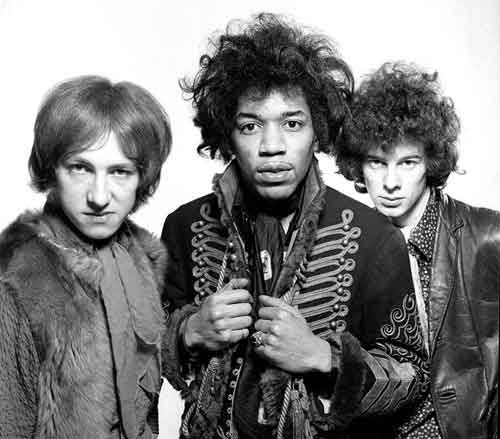 (From left: Mitch, Jimi & Noel)