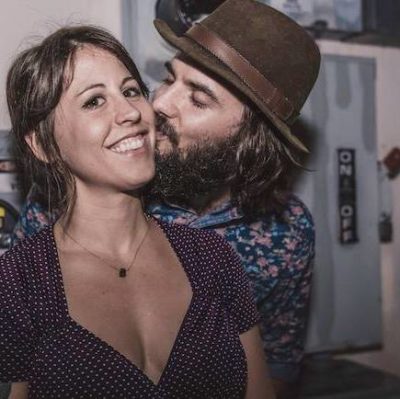 Jenna and Daniel Watters successfully met a $10k Kickstarter fundraising goal to support the release of their latest album. Most of that money was for a PR hire. In this episode, Jenna and Daniel share how and why their PR hire didn't go well. We also discuss other efforts that went into promoting the release of their album The Watters, including their weekly Wednesdays with the Watters videos.
Life is exciting for Jenna and Daniel, as of the time of this recording. They're expecting a baby boy. But is that slowing them down? Not yet. They're working on music for their next album. Jenna even thinks they'll have baby boy on tour with them in no time. A supportive family and their general outlook on life gives them a sense of freedom that not all music artists experience. They're not preoccupied with money, but focused on making good music. Performing live with less frequency has actually helped them earn more.
Daniel and Jenna share other reflections on the business of their music and their creative processes. They are genrefied as Americana Rock & Soul. They've been recently performing as a jazz quartet. And they are apparently quite good at Fleetwood Mac covers. I couldn't be more enamored with their talents and vibe. See what I mean by checking out their videos and latest album.
BONUS CONTENT (Follow-up Q & A with Guest)
Robonzo: What's your number one way of dealing with the voices of self doubt? 
Jenna & Daniel: To remember that bands never get anywhere when they let those voices talk them out of action.   We've released six albums since 2010, so we've never really had a lot of self doubt about our material.  The hardest part is seeing people around you get the record deals, booking agents, etc.  that you wish you had.   It can make us feel discouraged/jealous while simultaneously proud/inspired.
Robonzo: Where will you focus most of your community building efforts in 2019?
Jenna & Daniel: 2019 will be mostly a creative year to take a step back and reassess where we are at, what has worked so far, what hasn't and look towards the future with openness.  Spring and Summer will be focused on our new baby and new music.  We are not sure yet what fall will bring.  We have a show booked in September in Houston, TX, which is the first show we have booked post baby.   I don't think we will be focusing on growing our community as much during this time, mostly just keeping up with Wednesdays with the Watters and waiting for good opportunities to come to us.
[Full Disclosure: This post may contain affiliate links. If you purchase products using these links, I'll earn a small commission at no extra cost to you. Thanks for your support!]
SHOW NOTES
RELATED EPISODES
RESOURCES FOR MUSICIANS