The Unstarving Musician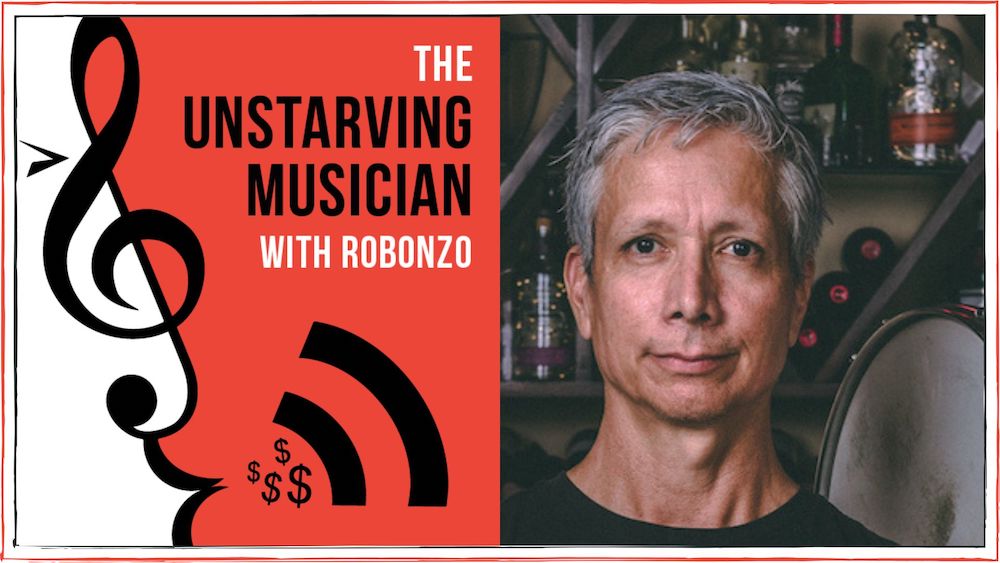 Press releases
About
The Unstarving Musician is a podcast that features interviews with independent music artists and music industry professionals who share their experience and expertise on topics such as the creative process, recording, music licensing, touring and the business of music. It's a podcast intended to help independent music artists better understand the business and creative processes that empower them to do more of what they love–make music.
Host Creator Robonzo sees the Unstarving Musician as a way of making the independent musician's journey a little easier, by sharing insights from a wide array of guests. The podcast was inspired by Robonzo's book "The Unstarving Musician's Guide To Getting Paid Gigs: How to Get Booked and Paid What You're Worth, Over and Over Again."
Release Schedule
The Unstarving Musician launched in 2017 with a weekly publishing schedule, featuring long form interviews that ran about one hour in length. During 2020, the podcast moved to a fortnightly release schedule and began experimenting with a strict 30-minute interview format. In recent months, the podcast has returned to a weekly publishing schedule and a flexible interview length that ranges from 30 to 45 minutes.
Our team
Robonzo, Host Creator – Robonzo is a life long gigging musician. As a drummer, vocalist and songwriter, Robonzo published his first two singles On Top Of The World and New Gods Part 2 in 2021 and 2022 respectively. He began his musical journey near the city of his birth, Fort Worth, Texas. He has since worked in the music scenes of San Jose, California, Panama and most recently Querétaro, Mexico.
Mario Hernandez, Guest Relations – Mario is a former musician who found brief fame in Hollywood with a band known as The Sundown Collection. He had the good fortune of meeting and performing alongside the likes of Jimi Hendrix, Cream, Three Dog Night and others big names of the era. Mario is an avid media consumer and voracious reader of history and current events.
What others are saying about the Unstarving Musician
Among the "14 podcasts musicians should be listening to in 2021"
–Dave Cool, Bandzoogle.com, July 22, 2021
"One thing I really admire about your podcast is that it provides insights from so many different points of view. It's very eye-opening. It is a binge-worthy podcast!"
–Fia Nyxx Singer Songwriter
Thank you for keeping me company during depressing lock down, when I missed playing live & feeling worthwhile to the world. I'm still hooked & often go back & listen again to old episodes when I need help with something.
–JJ Lovegrove, Singer Songwriter
Really enjoying your podcasts! I am a fellow KOMPOZ user and fan and collaborator with Peter Rand. Your Podcast with him was really great, and I have been going through each episode while riding the train. Super Interesting stuff and you have a great interview style! I haven't finished listening to them all yet, but I am gonna keep working my way through. Thanks for making my journey feel a little shorter!
–Timothy Reid, Guitarist & Songwriter
Support the Unstarving Musician
The Unstarving Musician exists solely through the generosity of its listeners, readers, and viewers. Learn about the many options for offering your support. Visit our Crowd Sponsor page at UnstarvingMusician.com/CrowdSponsor.
Where to listen
The Unstarving Musician can be found at UnstarvingMusician.com, Apple Podcasts, Spotify, and other popular podcast platforms.
Contact
[email protected]
voicemail & text: +1 (408) 454-8368
Instagram @robonzodrummer
Media Assets
Download our EPK and press kit assets here: https://bit.ly/media-um