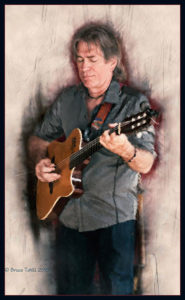 This episode of The Unstarving Musician's Podcast features a conversation with John "Kiko" Carney, a versatile Panama based guitarist and new friend. John has and continues to perform throughout Panama, the US and Europe as a full time original artist.
His resume is impressive. He's opened for the likes of Bo Diddley, Styx, Little Richard, and Clint Black; and he's backed such legendary artists as Joe Cocker and Percy Sledge. He's also become a recent regular at The Bouquete Jazz & Blues Festival, also known as the biggest little festival on the planet. Check out my conversation with John Wolff in episode 6 for more on The Bouquete Jazz & Blues Fest.
In this episode, John Carney and I talk about his early doubts about being a full-time musician, the fateful day that cemented his path, working with Joe Cocker and Percy Sledge among others, music as a business, his quest for orchestration, developing a signature sound, and more.
I've taken a personal interest in John, because he's local to me and quite the musician. Whenever he comes up in discussion, it's always with rave reviews. He's a wonderful guy who I hope to spend some time with in the near future. I hope you'll enjoy our conversation as much as I did.
Show Notes
Boquete Jazz & Blues Festival (12th Annual / new venue)
Lynchberg Gastropub, Panama City
Bobby Keys (younger brother)
Eydie Gorme & Trio Los Panchos, circa 1964
Jeff Lyndsay, Author of Dexter
Scott Ambush bassist for Spyro Gyra
Me & Sami on a windy day in Boquete, Panama March of 2015 :)
Also available on iTunes, Stitcher & Google Play Music
Looking for more gigs? Check out my book The Unstarving Musician's Guide to Getting Paid Gigs to learn the methods and tactics I used to play as often as I wanted, with people I admired and respected.