Relationships have everything to do with being a busy musician. Being a good player (something I'm always working to be) is certainly important, but relationships are arguably even more important. I've heard many musicians, some of them extremely talented and quite successful, say that just being a nice guy makes all the difference in getting gigs. For these "nice guys," gigs can be a noteworthy tour or a recording gig; and this nice-guy outlook is one shared by a number of pros. Just ask any of your favorite drummers if being a nice guy matters.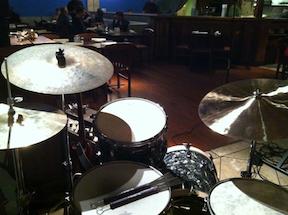 Relationships for me has been something that includes band mates, venue owners, booking agents and fans. While all of these people have been hugely important in my becoming an in-demand drummer, it started with musicians and venues. Obviously you have to have a band, hence the importance of good relationships with fellow musicians, but networking with other musicians made it possible for me to work with multiple bands over the past two years. Developing friendships and a good reputation resulted in invitations and referrals that landed me gigs with multiple bands in 2011, 2012 and 2013. It helps to put yourself out there too; and by "putting yourself out there," I mean simply, letting people know you're interested in working with them. Are you networking with other musicians? Are you putting yourself out there?
I've spent as much time networking with venues as I have with musicians. In my case, venues have predominately been bars, restaurants and wineries. Your area may be different than mine, but you should know your local music venues. It's worth mentioning that music venues can be an ever changing landscape. Over a ten year period, I've watched venues come and go. Some venues  close, only to reopen months later. One of the most valuable observations I've made where venues are concerned, is that change is the only constant. Just when you think you've got a great gig for months or years to come, something changes. This obviously means that you must always be looking for the next venue and the next gig. Otherwise, you could find yourself disappointed when a gig suddenly comes to an end.
If you're not used to networking with musicians, one of the easiest ways to find them is at the gigs they play. Another great place is at open-mic nights or jam nights. When I moved to San Jose, there was a thriving blues jam scene at a little place called JJs Blues. This is where I met someone, who inspired me to resume my love for performing. After letting me sit in with her then house jam-band, Lara Price encouraged me to come back to the her jam. More on how that encouragement got me back into playing after a two-year hiatus later.
Networking with venues might be a bit foreign to gigging musicians. Here's an example of my venue networking that you may be able to apply to your local venues. I happen to like wine, and San Jose happens to be near a number of wineries. These wineries host music. Visiting these wineries and developing friendships with staff and management has been a factor in getting gigs for several months our of the year. Yes making phone calls, sending emails and making personal visits are important, but the value of face-time and friendships cannot be stressed enough. More on this in upcoming posts.