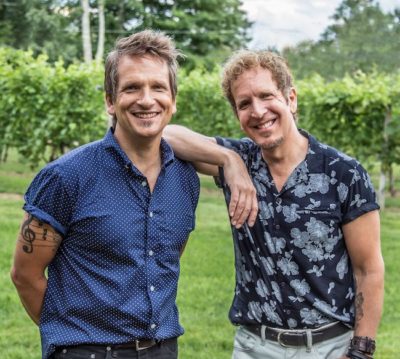 Adam and Michael Scharff are longtime working musicians and music teachers. These days they're in the world of virtual artist development. With a focus on mentoring artists, Adam and Michael offer a compliment of production, writing, recording services. Their podcast Mentoring for the Modern Day Musician features the advice and expertise of the Scharff brothers, designed to help music artists shorten the learning curve of navigating the rapidly changing music business.
Episode Highlights
We start the interview with some ice-breakers where we discover that Adam learned Latin and that Michael's first instrument was the violin. We go on to discuss:
The origins of Mentoring for the Modern Musician
Being easy to work with
Focusing on live performances for success
The pros and cons of a 360 label deal
Focusing on why your audience cares about your music, message and brand
Key Points
Connect with your fans by treating them like real people – they are.
Figure out what it is about you that will make others come back to learn more.
Quotable
"The artists that stay are the artists that never really stop the [artist development] process."
—Michael Scharff

"The superfan is gonna consume everything you have. They're going to support you on Patreon."
—Michael Scharff

"Fans are actually real human beings with wants and desires and needs and stories. They're the ones you can count on to have a career, so it's important to treat them like a real human."
—Adam Scharff

"You have to be willing to unlearn something, then relearn it again."
—Michael Scharff
Mentioned in this Episode
The Unstarving Musician is committed to sharing the best tips and information of other music professionals to help musicians do more of what they love – make music. Our weekly podcasts features in depth discussions with musicians and music space professionals discussing music creation, marketing, and business tips. All this is made possible by the contributions of individuals like you in our shared community who love making music.
Patreon is a bit like Kickstarter, but instead of culminating in one large project, it's a way of crowdfunding ongoing creative endeavors. Patreon also serves as a community site where supporters can communicate and discuss new creations.









MUSICIAN RESOURCES

This episode is brought to you by Bandzoogle.
From garage bands to Grammy winners, Bandzoogle powers the websites for thousands of musicians around the world.
Plans start at just $8.29/month, which includes hosting and your own free custom domain name. Go to Bandzoogle.com to start your 30 day free trial. Use promo code "robonzo" to get 15% off the first year of any subscription.
*Full Disclosure: This post contains affiliate links. If you purchase products using these links, I'll earn a small commission at no extra cost to you. Thanks for your support!