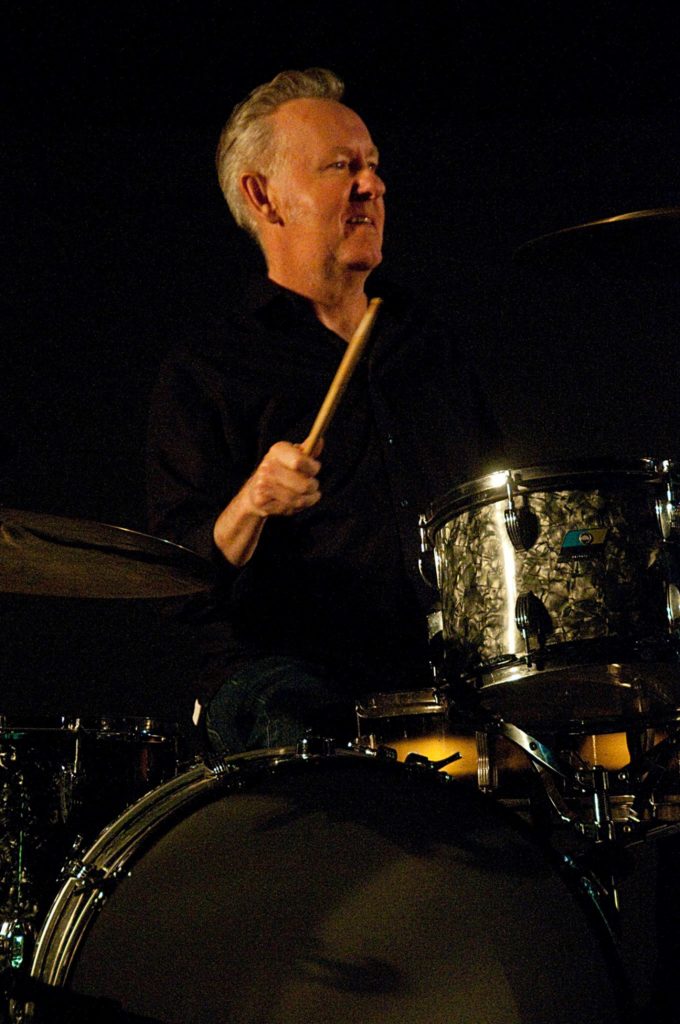 Also available on iTunes, Stitcher & Google Play Music
George Brandau is a super connector musician who regularly organizes benefit shows for his local community. He's also a longtime friend and fellow drummer, who's been mentioned on The Unstarving Musician's Podcast a few times. In this episode George and I discuss his superpower for connecting others, and how he goes about organizing and promoting benefit gigs.
George and his band Chrome Deluxe have raised thousands of dollars for the homeless, underprivileged children and fire victims. It struck me that many of us in the music community would appreciate the opportunity to learn about the art of benefit shows, the charitable giving involved, and the performing that goes along with it all. George says it's part of the hustle, but does get into some detail on how he uses social media, email and printed posters to pull consistent crowds to these events, be they benefit shows or otherwise.
As George says, connecting people is in the fabric of his being. So much so that he has to keep his super-connector side in check, lest it interfere with the act of listening. We had a laugh about this, as I frequently catch myself suppressing the urge to interrupt people for the sake of blurting out something that sounds funny in my head. Truth be told, my brand of humor seldom warrants interrupting anyone. I doubt this is the case for George as the rolodex of his mind starts to spin anytime he meets someone interesting.
George claims to be extroverted, yet he'll also tell you that he cherishes alone time. Alone time for George is an ideal time to unplug and reflect. This is a topic I enjoyed discussing, as it can appear to fly in the face of being an extrovert, and because I can relate. I think that he and I are both extroverted introverts, because neither of us has issues with alone time. In fact, we both love and leverage it.
When asked about marketing and promoting benefit shows, he says it's just part of the hustle. He also admits to being shameless when it comes to promoting his gigs, benefit or otherwise. Utilizing email, Facebook, Meetup, NextDoor.com, and printed posters, George has created a consistent and loyal following for his band Chrome Deluxe. His custom designed posters are often hand delivered to venues–nice touch. His email campaigns are far from a one and done affair. George shared with me that he emails his list four times leading up to any one show, which tells me he has a quality list of loyal followers.
The formation of Chrome Deluxe was quick, according to George. While the band's members are each solid components of the Chrome Deluxe sound, only two of the four were part of its original lineup. When George talks about the band, he'll tell you that they're part of the blues scene, but it's obvious that he wants the band to be known for more than just blues. Having seen the band play very recently, I can attest to the fact that their blend of originals and obscure covers hit a broad range of styles. Their fans love it, and the band clearly enjoys playing together. You can hear the new Chrome Deluxe CD on their website. If you want to purchase a copy, you'll have to email George via the website or visit a StreetLight Records location. I suppose I should help him get setup for online sales. :-)
SHOW NOTES
Chrome Deluxe on the webs
King Amplification
Charlie Musselwhite
Elvin Bishop
Help victims of the North Bay fires
Poor House Bistro
The Press Democrat
Second Harvest Food Bank
NextDoor.com
Meetup.com
Mailchimp
Clifford White social media
D Grant Smith of Appetizer Radio Show, Episode 5
The DIY Musician's Radio Handbook
KSCU
KKUP
Aki Kumar
School of Blues
StreetLight Records
Kid Anderson | Greaseland Studios, Episode 3
Looking for more gigs? Check out my book The Unstarving Musician's Guide to Getting Paid Gigs to learn the methods and tactics I used to play as often as I wanted, with people I admired and respected.