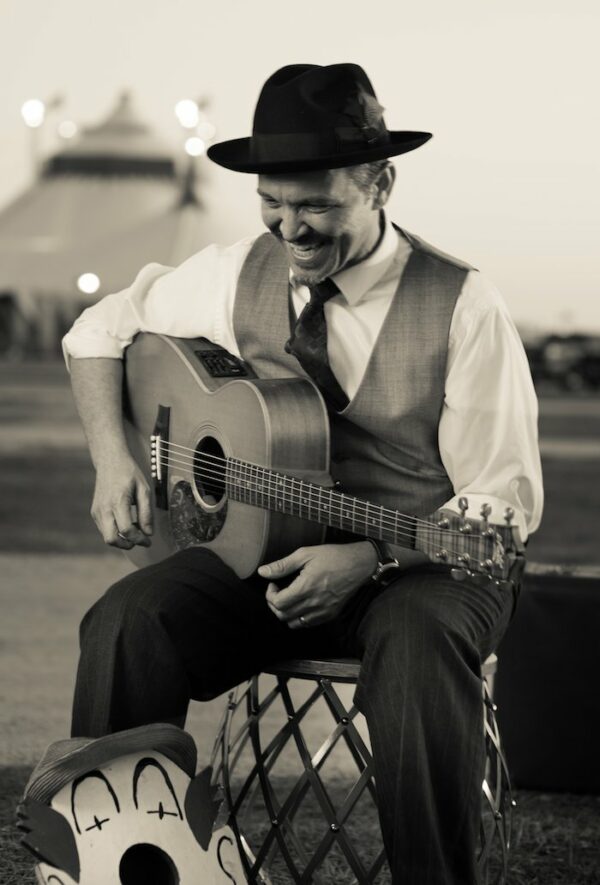 Circus swing is my favorite genre that's been used to label Dean Johanesen. The label comes from Dean's fascination with circus history and a family story that ties it all together. In discussing my fondness of this genre with Dean, he confessed that he's not sure (yet) that he wants to be defined by circus swing indefinitely. At the moment, it appears to be working well for him.
This circus swing style has made Dean a favorite with his peer Tom Meny, who said this about Dean.
"The dude just has a great style.  He's always dressed up, nice pants, button down shirt and tie.  Just class.  And one helluva cool dude. At the festival, you sometimes can get lulled because everyone's playing all these folk or Americana songs… then this dude breaks in with his up-tempo Django Reinhardt style and everyone loves it."
After enjoying these kind words for a moment, Dean told me that songwriter festival performers most often play very heartfelt material. That material is often of sad subject matter. Dean feels that following two or three performers who all played emotionally heavy songs with his upbeat sound helps keep audiences engaged. The shift in mood is probably a pleasant surprise to festival audiences. That's the kind of surprise that can have an energizing effect on a performer like Dean.
Dean sites The Dripping Springs Songwriters Festival as one of his favorites. As I've become more acquainted with the songwriter festival scene, thanks to guests like Dean, Tom Meny and others, I've also become more interested in them. Some are great places for artists to pitch their songs, and others appear to be simply about the music performances. Both types can be great according to Dean, although he has a preference for those that are focused on performances. He began looking into songwriter festivals following the breakup of a four-piece band of which he was a member. Good move, as I imagine some artists feel a bit lost following the breakup of a band.
In spite of his success as a solo artist, Dean still enjoys the camaraderie one finds with being in a band. In fact he says that he didn't set out to be a solo guy. Enter his current trio The 24 Hour Men. The trio is helping Dean keep people interested in what he's doing. The band also has appeal for festivals that look for groups as opposed to solo artists, adding diversity to Dean's career. As we discussed The 24 Hour Men, Dean mentioned his desire to keep an open dialogue within the band. As I probed for more on this thought, he brought up his work as a sideman with another band. This work has reinforced Dean's sentiment on open dialogue and allowed him to experience what it's like to be "the other guy."  It's been an opportunity to offer his help to a fellow bandleader, and an opportunity to empathize with band members in general. He says the experience has put a new perspective on being in a band. Dean maintains that he wants to keep it fun for everyone. Open dialogue helps, whereas he recalls  miscommunication in past projects has been the cause of much grief.
"I want to exist doing the things I love, because I think it makes you a better, kinder human being."
As a songwriter, Dean says his process and style has transformed over the years. Earlier compositions were introspective, where his later work has taken him down the path of writing about other people. Working on soundtracks has taken him in a direction where he uses history as subject matter. This has culminated in writing about the circus,  a subject that his home base of Sarasota Florida has fostered. Sarasota is rich in Ringling Brothers and Barnum & Bailey Circus history. And this all begins with a story of an aunt who, as a little girl, threatened to run away and join the circus. It is all of this that inspired Dean to coin the genre of circus swing.
Being a full-time musician has it's ups and downs in Dean's words. To make it all work he tours, teaches, performs in multiple configurations, and occasionally couch surfs. He's clearly loving every minute of it though. He likes moving around stylistically, and confessed he's currently experimenting with a new sound. He wants to be inspired by whatever he's doing, inspired to write new songs, inspired to write better songs. Change for Dean makes perfect sense.
You can check out Dean's work at DeanJohanesen.com; and bonus–hear his unreleased track Red Eyed, Red Light at the end of our conversation.