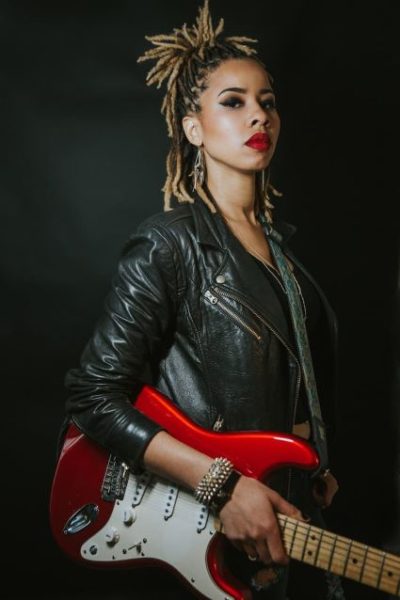 Juno is an insanely talented guitarist and songwriter with her debut album called Help is Not on the Way. Having worked with some big names including Bruno Mars, Camila Cabello, Fifth Harmony, Erykah Badu, India Arie and more, this new album hits a very personal note.
We talk about how Juno had some preconceived notions of how an album should be in terms of songwriting and production, but our current challenging times threw all that out the window and it worked out for the better.
Episode Highlights
We start by talking about the track Kitchen from her new album and its inspiration (05:00) and go on to discuss:
(08:25) Using voice memos to track ideas and melodies
(11:30) Finishing an album in quarantine
(20:50) How the production of her album shifted
(23:00) Social media as a diary
(28:25) Teaching guitar over Skype
(31:29) Her unexpected journey to becoming an artist
(48:35) Not needing permission to create
Quotable
"There's certain things that no one can do but you. I think I kept wanting permission from other people to do that thing. It was about me deciding to do as much as I could and whatever I couldn't to ask for help."
—Juno

"There's something in the frequencies of all the twelve notes we have that do something to us that we can't even explain. Two people from different worlds can focus on the same thing for one hour because of music."
—Juno
Mentioned in this Episode
Support the Podcast
The Unstarving Musician exists solely through the generosity of its listeners, readers, and viewers. Visit our Crowd Sponsor page to learn how you can offer your support.
MUSICIAN RESOURCES
Visit my Resources page for more musician resources.
Pardon the Interruption (Disclosure) 
Some of the links in this post are affiliate links. This means I make a small commission, at no extra charge to you, if you purchase using those links. Thanks for your support!

This episode is brought to you by Bandzoogle.
From garage bands to Grammy winners, Bandzoogle powers the websites for thousands of musicians around the world.
Plans start at just $8.29/month, which includes hosting and your own free custom domain name. Go to Bandzoogle.com to start your 30 day free trial. Use promo code "robonzo" to get 15% off the first year of any subscription.