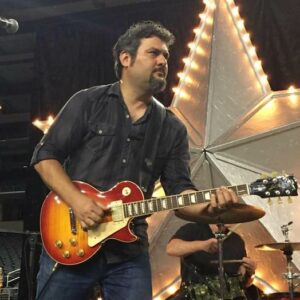 This episode of the Unstarving Musician's Podcast features Chris Raspante. I first met Chris at a holiday jam session December 2016 in Fort Worth, Texas where I am from originally.
Chris is a songwriter, recording engineer, and a successful gigging musician for hire. His guitar work has been featured on the HBO series True Blood and the Tonight Show with Jay Leno. He has also worked with a host of Nashville musicians, including Travis Tritt, the Dixie Chicks and Stan Lynch. I can also say that Chris is a hell of a guitar player and a really nice guy. In today's conversation we talk about serendipity, networking, reputation, Nashville, the wonders of today's talent and more. I hope you enjoy our conversation as much as I did.
Episode Highlights
Chris and I have an in depth discussion of DIY home recording, his move to Nashville, and the beginnings of his interest in music.
Mentioned in this Episode
The Unstarving Musician is committed to sharing the best tips and information of other music professionals to help musicians do more of what they love – make music. Our weekly podcasts features in depth discussions with musicians and music space professionals discussing music creation, marketing, and business tips. All this is made possible by the contributions of individuals like you in our shared community who love making music.
Become a Patron!
Patreon is a bit like Kickstarter, but instead of culminating in one large project, it's a way of crowdfunding ongoing creative endeavors. Patreon also serves as a community site where supporters can communicate and discuss new creations.









MUSICIAN RESOURCES

This episode is brought to you by Bandzoogle.
From garage bands to Grammy winners, Bandzoogle powers the websites for thousands of musicians around the world.
Plans start at just $8.29/month, which includes hosting and your own free custom domain name. Go to Bandzoogle.com to start your 30 day free trial. Use promo code "robonzo" to get 15% off the first year of any subscription.
*Full Disclosure: This post contains affiliate links. If you purchase products using these links, I'll earn a small commission at no extra cost to you. Thanks for your support!