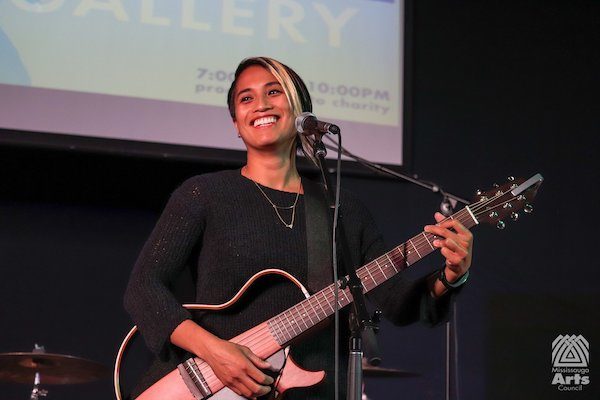 Singer songwriter Arlene Paculan is all about community. Whether it's through creating empowering arts events or sharing how artists overcome adversity, she understands the power of connection and shares that talent. We talk about her latest album Home With You and the various events she creates through Let's Make Good Productions.
Episode Highlights
We begin by talking about the music scene in Mississauga, Canada, and go on to discuss:
Her involvement with local arts organizations and their impact on her career
The genesis of Let's Make Good Productions
Striving Artists and the creativity of success
Questions to support overcoming adversity
The balance of fans and haters and how to re-frame the hate
Her preferred ways to promote events
Bands she'll cross the (Canadian-U.S.) border for
Understanding how different people process music
3 Key Points
Start local. Create the foundation for your fan base in your own community, one person at a time.
Hold strong to your self-belief. Don't let the comments of others pull you down.
Create your own opportunities. Find new places to play. Volunteer. Get out there.
Shareable Quotes
"You have to have a name in your own community first. My mom taught me that. Her career is different to mine, but she was right." Arlene Paculan on growing your audience

"If we embody the truth of other people, how are we supposed to live our own lives?" Arlene Paculan
Mentioned in this Episode
The Unstarving Musician is committed to sharing the best tips and information of other music professionals to help musicians do more of what they love – make music. Our weekly podcasts features in depth discussions with musicians and music space professionals discussing music creation, marketing, and business tips. All this is made possible by the contributions of individuals like you in our shared community who love making music.
Patreon is a bit like Kickstarter, but instead of culminating in one large project, it's a way of crowdfunding ongoing creative endeavors. Patreon also serves as a community site where supporters can communicate and discuss new creations.









MUSICIAN RESOURCES

This episode is brought to you by Bandzoogle.
From garage bands to Grammy winners, Bandzoogle powers the websites for thousands of musicians around the world.
Plans start at just $8.29/month, which includes hosting and your own free custom domain name. Go to Bandzoogle.com to start your 30 day free trial. Use promo code "robonzo" to get 15% off the first year of any subscription.
*Full Disclosure: This post contains affiliate links. If you purchase products using these links, I'll earn a small commission at no extra cost to you. Thanks for your support!