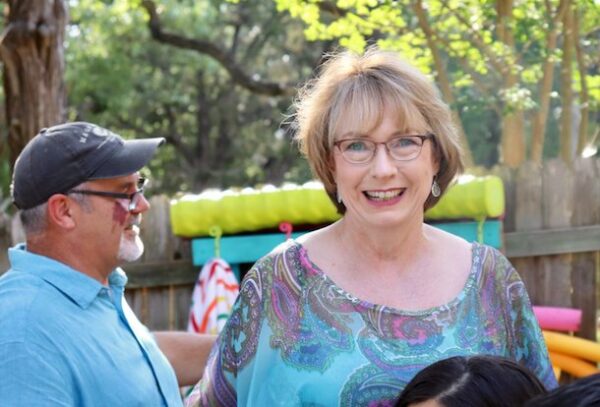 Amy S Killingsworth founded and co-produces Amy & Gary's House Concerts of San Antonio Texas. I'm fascinated with house concerts as of late, and this conversation was an opportunity to get the host perspective. Amy and Gary hosted their first show in April of 2016. Their 25th house concert will happen in July of 2018. Amy's added street cred comes from former Unstarving Musician's Podcast guests Ray Prim and Tom Meny. They both think she's all that and a bag of chips.
I'm often a little anxious about interviews that are not with music artists, but Amy was fun and easy to talk to. It turns out that Amy was a bit nervous too, but tells me she decided to embrace the new and do the interview. Lucky me. She was a wealth of information on hosting house concerts. Our conversation also covers the artist and fan perspective.  Here are a few topic highlights.
Challenges of Hosting House Concerts
Amy says that one of the biggest is getting people to come. She sees no-shows as money out of the artist's pocket. The thing is that Amy really cares for the artists. She loves the live music, but she really cares about the welfare of music artists.
"We're a listening room."
"We're a listening room," Amy says of her home and house concert venue. Being attentive is a show of respect to the musicians, she adds. Apparently her audiences are well trained. Amy shared with me that she's only ever had to shush one person, her husband and co-producer Gary. She went on to say that the Dripping Springs Songwriter Festival has volunteers that use hand fans to remind attendees that theirs is a listening venue. Personally, I think this method would work well for any house concert host.

Advice to Aspiring House Concert Hosts
Don't be intimidated, just do it. That's Amy's top recommendation. "You're there to help the artists make money… so just lean in to it–enjoy it," she says. Amy also recommends attending house concerts produced by different hosts. Ask for advice, borrow the things you like and use them. This is exactly what Amy has done. A tip she shared from another house concert host is to keep a guest registration list for each show. Amy uses this list to nurture her community with little things like sending thank you emails and sharing insider artist information. This next one isn't so much a tip as it is an example of how Amy goes the extra steps. She uses a birdcage (nice touch!) to collect donations for the performing artists. She also reminded me that using the words "Suggested Donation" and "Private House Concert" are important. Tom Meny talks about this in his interview for this podcast, and Shannon Curtis discusses it at length in her book.
No Booker, No Bouncer, No Bartender: How I Made $25K On A 2-Month House Concert Tour (And How You Can Too), by Shannon Curtis
Amy loves to shoot live streaming video, as they're a great way to market her private house concerts. Another pro tip she offers, however, is to always ask for artist permission before shooting video of their performance. Not all artists are keen on it.
Advice to Artists Interested in Performing House Concerts
Amy receives an average of five to ten emails per week from artists expressing interest in performing for Amy & Gary's House Concerts. Doing only twelve or so shows in a given year makes it tough to choose artists. As a way of giving back, Amy helps artists book gigs at other venues when she can't book them for her own shows.
Amy looks for a good house concert performance video when choosing artists. It's important to note that she and other house concert hosts prefer to see live performance videos. Also important to note is that the video doesn't need to be of the highest production quality; but the video sound quality does need to be good. Staged videos are fine, according to Amy, as long as it's live in front of a live audience. She says that artists should invest as much as they can to have one of their house concert show recorded on video. This is your artist calling card to house concert hosts. This is one of the things that will get you house concert gigs.
Artists should understand that it's tough to have full bands at a house concert. Percussion instruments such as a cajón are doable, but a drum kit is typically not practical. Artists should present their gear list to hosts. Lastly and very important, Amy says "persistence and nice." She offers an example in Brian Pounds who at one time sent weekly personalized emails. She's booked him three times at other house concert venues. The added lesson here is artists should network with house concert hosts.
My take away from this interview: Amy Killingsworth is a determined doer of good things, and a gift to the music community at large.