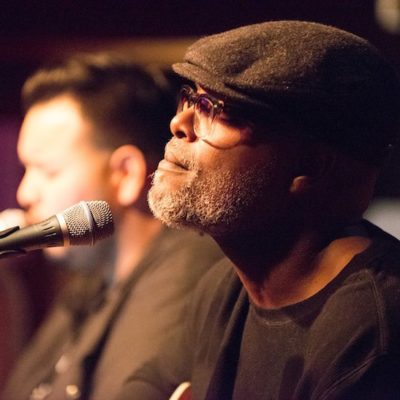 Ray Prim is a talented Austin based musician with a day job. He's widely seen as a performer with an onstage sense of humor, something he says he doesn't understand. I think I get his reputation. During the first 10 to 15 minutes of our conversation, he proclaimed his love for Taco Cabana tortillas and shouted at a Cortana enabled device. He's not trying to be funny, he just is.
When I asked him about his reputation as an onstage funny guy, he says "I can't explain it. I say microphone, and they laugh." He also says he once planned and told a joke on stage, and it bombed. In spite of this, Prim thinks he could write sketch comedy for SNL.
Happy having a day job
Ray's happy about having a day job. He sites living with band mates and playing shows you don't want to play as good reason to think about getting one. He puts his own situation in perspective for me by sharing a story from his touring days. His pivotal moment came when he received his first temp job paycheck. It was apparently considerably more than he'd grown accustomed to earning as a full time touring musician. He was about 28 at the time.
Now in his forties, Ray reflects that the music business has a shelf life, such that the chances of "making it" diminish over time. He made his life change decision largely so that he could play gigs that he wanted to play, and so that he could write songs. He says there are lots of musicians in Austin with day jobs, and that the talent pool is big. His advice to musicians who struggle after a long career, "Go out there and find people with jobs that love to play."
"If anybody is digging you, you've accomplished something."
Today he turns down more gigs than he plays, while watching many of his full time musician friends struggle. He does shows so that he can pay musicians, and makes a point of not playing with full-time musicians. He says he can't afford them. The first thing he wants to know when recruiting musicians is if they have a day job. Living in Austin means being surrounded by talented people with day jobs. He adds, "There's always someone better… but there's enough ears out here for everyone. If anybody is digging you, you've accomplished something."
House concerts versus clubs
On the day of our conversation, I happened to notice that Ray had done gigs for something called Tips Concerts, which is produced by a couple that lives in South Austin. They've build a sweet outdoor venue at their ranch home for hosting invitation-only concerts. Attendees pay ~$20 to attend the potluck events where artists perform hour long shows. Ray says it's a community thing, and that musicians are paid well. "House concerts is where it's at," according to Ray. Fellow Austin musician Tom Meny turned him on to this particular gig. Ray goes on to talk about other house concert venues where he performs in San Antonio and Houston. They're typically booked well in advance and the venue hosts do all the marketing. In fact artists are discouraged from marketing the invitation only events. Ray enjoys these gigs so much, he wishes he had a home big enough to host house concerts.
Featured Track
Ray and I were introduced by Austin based singer Lara Price. The two met while doing backup vocal tracks for an artist known as Dr Joe. He says of Lara that he loved her voice the first time he heard her sing. "Lara is the cat's meow," he added. I agree, and I'm thankful she introduced us. As Ray says, Lara's a talented and cool person.
This episode's featured track is Find a Suit, which Ray says he wrote for a friend who was getting married at the time. The track compliments Ray's long list of breakup songs. Where does he find inspiration for such songs? Ray's addicted to TV. He says his life is boring, so his go-to muse is television drama. He tells me about a few of his favorites and closes with, "Don't get me started on Felicity–Oh I Love that girl." He's not trying to be funny, he just is.
Pardon the Interruption (Disclosure) 
Some of the links in this post are affiliate links. This means I make a small commission, at no extra charge to you, if you purchase using those links. Thanks for your support!