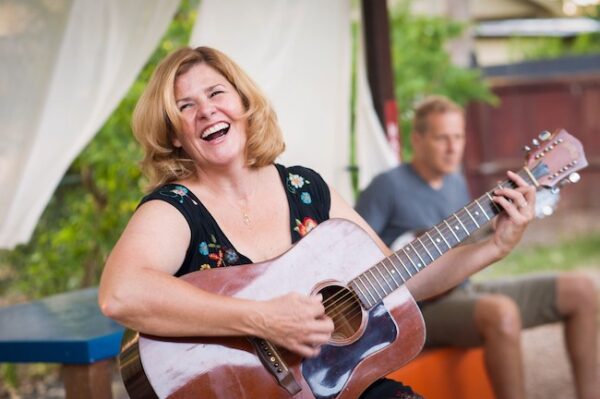 In this episode Tanya Winch and I meander through her journey in music, art and life. She and I are mutually acquainted with Brian Wolff. Brian is a musician and host of the Greetings From Wherever, a podcast about artistic inspiration and the creative process. Thanks to Brian for recommending I feature Tanya on this podcast.
My conversation with Tanya is extra casual. I had a very nice time getting to know her. We chat about her single Cupid, her vinyl collection, her day job, her beginnings in LA, the making of the video for Cupid and Tanya's release strategy. We also talk about why I started the Unstarving Musician podcast. This leads us into conversation about The Unstarving Musician's Guide to Getting Paid Gigs.
Tanya plays guitar and piano, she teaches music for guitar, piano and voice. I'm pretty sure she owns a pair of tap shoes. She's high energy and yet she shares a moment of humility and vulnerability that I left in the episode for you to hear. This was so I could say, she's totally worthy, and so are you. Whatever it is you're feeling unworthy of, stop that. As a fan of the podcast once said to me, accept whatever good things life brings and embrace it.
Please enjoy my conversation with Tanya Winch.
Support the Unstarving Musician
The Unstarving Musician exists solely through the generosity of its listeners, readers, and viewers. Learn how you can offer your support.
Mentioned in this Episode
14 podcasts musicians should be listening to in 2021
YouTube live stream of this episode (uncut/unedited)
Greetings From Wherever Episode 20- Tanya Winch (Songwriting)
Related Episodes
Resources

This episode is brought to you by Bandzoogle.
From garage bands to Grammy winners, Bandzoogle powers the websites for thousands of musicians around the world.
Plans start at just $8.29/month, which includes hosting and your own free custom domain name. Go to Bandzoogle.com to start your 30 day free trial. Use promo code "robonzo" to get 15% off the first year of any subscription.