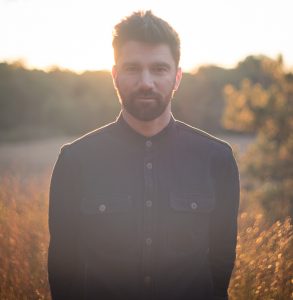 Eli Lev, a return guest to the podcast, just released the 3rd in a 4 album project. He'll wrap the project up with that 4th album in the later part of 2020. He's incredibly inspirational, having done so much in the short span of his music career. He's all about intentions. And I think he found love recently. You'll hear more about that in our conversation.
Global citizen and neo-folk singer Eli Lev is making the world a smaller place, one song at a time. Eli pens hymns for everyday enlightenment—songs that resonate because they're heartfelt, earthy, and offer wisdom culled from self-discovery.
As I recorded the podcast in December, I asked Eli what he was looking forward to in the New Year. Eli's looking forward to talking about our climate, and what he sees as the big challenge of 2020. I think he feels that it's now or never time. And he has what I consider to be a healthy attitude about the issue. I support him and our beautiful planet.
Episode Highlights
We start by talking about his first kickstarter campaign and the unique way he organized it. We then go on to discuss:
A content-focused approach to building community
Developing his 4 album project
Self-care in order to maintain momentum
Embarking on a duo project with Megan Leigh
Raising awareness and action on climate change
Key Points
Mind, body and spirit alignment supports your career
Make use of your superpower
Filter out the noise. Get responsible for yourself, your career and your planet.
Quotable
"In order to be as productive as I need to be, I need to spend enough time eating well, meditating, running, and taking time off as in time on to music ."

—Eli Lev

"The only way to give to others and to society is if we give to ourselves first."

—Eli Lev

"The more often you connect with people and the deeper you connect with people, the stronger that community will be. You have to put yourself out there and share what's going on for you as an artist."

—Eli Lev
Mentioned in this Episode
The Unstarving Musician is committed to sharing the best tips and information of other music professionals to help musicians do more of what they love – make music. Our weekly podcasts features in depth discussions with musicians and music space professionals discussing music creation, marketing, and business tips. All this is made possible by the contributions of individuals like you in our shared community who love making music.
Become a Patron!
Patreon is a bit like Kickstarter, but instead of culminating in one large project, it's a way of crowdfunding ongoing creative endeavors. Patreon also serves as a community site where supporters can communicate and discuss new creations.









MUSICIAN RESOURCES

This episode is brought to you by Bandzoogle.
From garage bands to Grammy winners, Bandzoogle powers the websites for thousands of musicians around the world.
Plans start at just $8.29/month, which includes hosting and your own free custom domain name. Go to Bandzoogle.com to start your 30 day free trial. Use promo code "robonzo" to get 15% off the first year of any subscription.
*Full Disclosure: This post contains affiliate links. If you purchase products using these links, I'll earn a small commission at no extra cost to you. Thanks for your support!