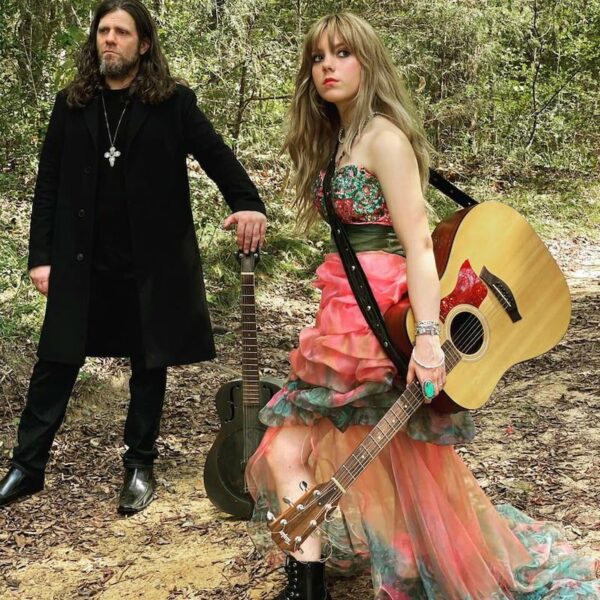 My conversations with Cozi and Ezra Vancil did not reveal the mystery of the flounder that is Cozi Anda Flounder. I assume that Ezra is the flounder, but they weren't exactly forthcoming about the meaning of the flounder. Ezra implied that the band has vowed never to speak of the flounder.
The duo are the founding members of Cozi Anda Flounder. In this episode, I speak with Cozi and Ezra in two separate conversations, which were originally intended to be two separate episodes. My first conversation is with Cozi Vancil, the young and sultry voice of Cozi Anda Flounder.
Ezra has also appeared in episodes 42, 182 and 187 (links below).
They had recently released their first EP called The Place, when Cozi and I spoke. Cozi had previously tracked vocals on and co-wrote a song called Parables, which was on Ezra's Family Songbook album.
Cozi is the second teenager I've interviewed for this podcast, the other being Radio Disney artist Samantha LaPorta (ep 26). I confess that I find teenagers challenging as an interviewer. I enjoy speaking with them and always have, but I've decided there's a slightly different skill set needed to get the good questions in with teenagers. That's what I've decided and I'm going to solicit advice on how to ask better questions of any future teenage guests. Cozi is an interesting and delightful person. I just felt like I could have done better. I don't know. We had fun nonetheless, or I did anyway.
In this conversation w/Cozi
In this conversation Cozi and I talk about songwriting, her music influences, working with her dad Ezra, learning the ropes of the music business, growing as a vocalist and songwriter, and a wee bit more.
This episode marks is Ezra's fourth appearance on the Unstarving Musician. One of those episodes was Ezra interviewing me about my debut single On Top Of The World, which I've not mentioned in a while. Yes, I've written and recorded a couple of tunes.
You can find links to my music on your music platform of choice by visiting Robonzo.com.
Ezra's a lot of fun to speak with, so our chat ultra casual.
In this conversation w/Ezra
In this conversation Ezra and I talk about Cozi Anda Flounder, his various other projects, funding his music projects, At Home Records (Ezra's label), separation between artist and label, marketing as an artist, the 90s movement, the evolution of Cozi, live shows, nerves, preparation, falling down, his new studio, the next Cozi Anda Flounder album, and more, more, more.
You can hear Cozi Anda Flounder wherever fine music is found and at CoziAndaFlounder.com.
Please enjoy my conversations with Cozi and Ezra of Cozi Anda Flounder.
Bandzoogle adds built-in Smart Links and Landing Pages for musicians
Music website platform Bandzoogle has added a built-in Smart Links feature as well as custom Landing pages to their suite of tools for musicians.
The new Smart Links feature allow musicians to easily sell albums and singles directly to their fans commission-free, and link to their music on popular streaming platforms all from a single mobile-friendly page on their own website.
Bandzoogle has also added Landing pages for musicians. These Landing pages can be customized to reflect the goal of their marketing campaign, from selling album pre-orders, offering limited edition merchandise, selling tickets, or building their mailing list.
Learn more at Bandzoogle.com and Use promo code "robonzo" to get 15% off the first year of any subscription.
Support the Unstarving Musician
The Unstarving Musician exists solely through the generosity of its listeners, readers, and viewers. Learn how you can offer your support.
Mentioned in this Episode
Related Episodes
Stay in touch!
Leave voice feedback on Robonzo's Speakpipe page
This episode is powered by Podcast Startup, the learning platform for creators with a voice.
Podcast Startup covers tech, production, editing, marketing and more. I know what it feels like to be slowed down by challenges revolving around fear, procrastination and tech, yet I've recorded and published over 260 podcast episodes.
To learn more about Podcast Startup and to get free podcasting startup tips right to your inbox, go to UnstarvingMusician.com/PodcastStartup.
This episode was powered by Music Marketing Method, a program for independent musicians looking to grow their music career.
Music Marketing Method was created by my good friend Lynz Crichton. I'm in the program and I'm learning tons! I'm growing my fan base and learning about many ways that I'll be earning money in the new year. It's also helping me grow this podcast. How cool is that?
To lean more and find out if Music Marketing Method can help your music career, visit UnstarvingMusician.com/MusicMarketing.
Resources
The Unstarving Musician's Guide to Getting Paid Gigs, by Robonzo
Music Marketing Method – The program that helps musicians find fans, grow an audience and make consistent income

Podcast Startup – The podcast learning platform for creative voices
Bandzoogle – The all-in-one platform that makes it easy to build a beautiful website for your music
More Resources for musicians
Pardon the Interruption (Disclosure) 
Some of the links in this post are affiliate links. This means I make a small commission, at no extra charge to you, if you purchase using those links. Thanks for your support!

This episode is brought to you by Bandzoogle.
From garage bands to Grammy winners, Bandzoogle powers the websites for thousands of musicians around the world.
Plans start at just $8.29/month, which includes hosting and your own free custom domain name. Go to Bandzoogle.com to start your 30 day free trial. Use promo code "robonzo" to get 15% off the first year of any subscription.