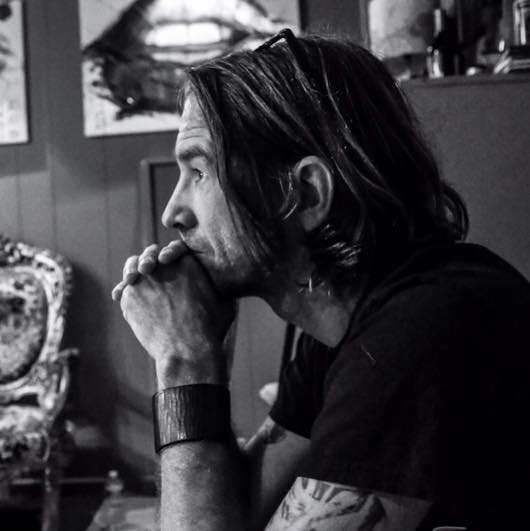 Lance Harvill came onto my radar by way of his recent work with Rex Brown. Some of you will know Rex as a founding member of Pantera. Lance's guitar work was featured on Brown's 2017 solo release Smoke on This. He was also part of the ensuing tour. Lance and I both grew up in the Dallas Fort Worth area, but only recently became acquainted with one another.
I went into our conversation interested in learning more about Lance's career. What we started with was how he met Pantera. He spoke at length about his friendship with Pantera guitarist Dime. This part of our conversation covers Lance's earliest gigs, including opening shows for Pantera. It's a time that traces back to when Pantera was honing their chops in the nightclub scene of Fort Worth, Texas.
Fast forward several years, and Lance would connect with Rex Brown for a project called Arms of the Sun. You won't find anything by Arms of the Sun on iTunes or Spotify. You will, however, find Lance's work on albums like Smoke on This. Most of his work resides in catalogues intended for use in film and TV. You can hear some of that work by checking out the show notes for this episode. Lance's career and work all happens in his home studio, where he seems most content.
Arms of the Sun
He's likely going to release something new under the Arms of the Sun name in 2019. My hope is that this release will be made available to the general listening public. Lance says has no plans to tour or play gigs. I'm also hoping he has a change of heart about this. Perhaps we'll even see him on the road again with The Rex Brown Band, or with co-conspirators of any forthcoming Arms of the Sun recordings.
In addition to saying a great deal about Pantera guitarist Dime and his friendship with Rex, Lance also shares a few words about writing music for film and TV, Nashville, country music, and Dallas, Texas.
At the end of this episode you'll hear Lance's guitar and vocal work on a track called Wasted Me from the Arms of the Sun sessions. When he sent me the track, I wasn't sure if it was new or from the original project, so I asked Lance for the story behind the track. I'd like to preface his response by saying Lance's kind words about our conversation, which I won't bore you with here, reminded me of how fracking lucky I am to speak with people like him and all the other great guests I've had on this podcast. Thank you–all of you!
Here's what Lance said about the track Wasted Me.
"It was on the Arms Of The Sun record. Rex on bass, John Luke Hebert (King Diamond, Chastain) on drums. This is one I had the music to but no lyrics or melody yet. Rex heard the instrumental and loved it, and we needed one more for the album. I went and wrote lyrics and melody in a pinch and this is what came out. It's about personal suffering brought on by one's self. Story of my life."
SHOW NOTES
RELATED EPISODES
RESOURCES FOR MUSICIANS
Bandzoogle– The all-in-one platform that makes it easy to build a beautiful website for your music