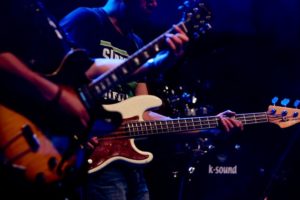 In this episode I take on a challenge from the Pat Flynn podcast and reached out to a number of administrators of Facebook Communities. There is real power in community, but it comes with a number of challenges as well. I made the ask of a number of community hosts to share their insights, challenges and the reason they love building and contributing to their respective online communities.
Many of them stepped up to the mic and that's what we've compiled in this episode.
Episode Highlights
Some of the top tips and insights include:
Build the community you would want for yourself
Groups provide more visibility than Pages on Facebook
Post regularly and you'll see interaction grow
You get out of it what you put into it
Quotable
"Only when we come together as a community can we lift each other up."

–Adam Reifsteck

"We all have something to learn from one another, we all have a passion for music and speak that same language, and by coming together we can all make our musical journeys more enjoyable and productive."

–Chris Coles

"I've seen growth in [our member's] businesses because of their participation in the community and their support of one another."

–Lindsay White
Related Episodes
Mentioned in this Episode
Adam Reifsteck
Chris Coles
Abe Partridge
Groovy Judy
Lindsay White
Mike Kaufman
Tony Avery
The Unstarving Musician is committed to sharing the best tips and information of other music professionals to help musicians do more of what they love – make music. Our weekly podcasts features in depth discussions with musicians and music space professionals discussing music creation, marketing, and business tips. All this is made possible by the contributions of individuals like you in our shared community who love making music.
Patreon is a bit like Kickstarter, but instead of culminating in one large project, it's a way of crowdfunding ongoing creative endeavors. Patreon also serves as a community site where supporters can communicate and discuss new creations.









MUSICIAN RESOURCES

This episode is brought to you by Bandzoogle.
From garage bands to Grammy winners, Bandzoogle powers the websites for thousands of musicians around the world.
Plans start at just $8.29/month, which includes hosting and your own free custom domain name. Go to Bandzoogle.com to start your 30 day free trial. Use promo code "robonzo" to get 15% off the first year of any subscription.
*Full Disclosure: This post contains affiliate links. If you purchase products using these links, I'll earn a small commission at no extra cost to you. Thanks for your support!