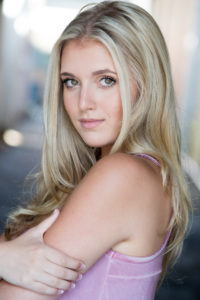 Also available on iTunes, Stitcher & Google Play Music
At age 16, Samantha LaPorta is the youngest guest I've had on the podcast. Our conversation took place on the same day that her single "It's a Girl Thing" was released. She's a Radio Disney artist, something she always wanted to be, and she's has acquired a number of awards and accolades, including social site Sweety High's Best Holiday Songs of 2016, NCMA's 2015 New Teen Artist and Best Teen Video, and the 2015 Nashville Universe Awards nominations for Rising Star, Best Song, and Best Female Artist. Clearly Samantha has caught the attention of people who matter, which is a testament to her drive and self motivation. All of this in spite of the fact that she's at a very early point in the trajectory of her fast moving career.
Samantha has been described musically as a mix of Ariana Grande and Tori Kelly. She sees herself as a pop singer with R&B in her soul. Even though she regularly performs for large crowds, Samantha admits that she was pretty shy in the beginning. She shared with me that she used to be so shy, that she couldn't look at people or have either of her parents in the same room while singing. Clearly she's broken out of her shell, but says she's still working to become the performer she really wants to be. Nowadays Samantha performs, records and works on her skills as a songwriter through practice, coaching and collaborating. She loves playing guitar too. She loves the language and what it gives her as a songwriter.
Samantha's mother Terry is very active in the management of Samantha's career. I got the strong impression that there's good balance between Samantha's music, school and social life, thanks to her parents. Terry told me she wants Samantha to reflect on this time in her life, with memories of an actual childhood. Part of this balance includes Samantha's active involvement in giving back, which she does by performing for children with medical needs, the elderly, and anti-bullying events.  She's mega talented, and I know it's a tough business; but I think she'll go far. She's got a good head on her shoulders and great parents guiding her along the way. Lookout indie pop. Here she comes!
SHOW NOTES
Samantha on Instagram
Music.ly