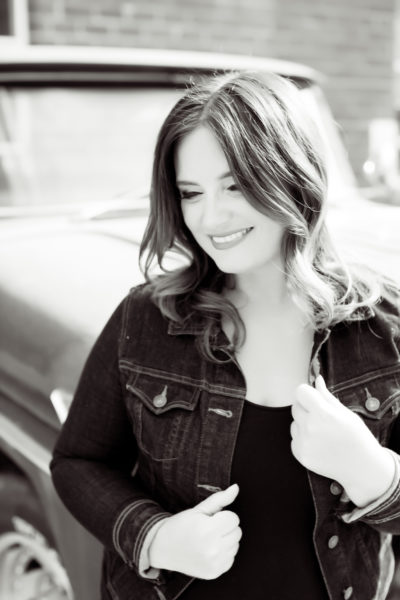 In 2011 Sommer Sharon started a Facebook page and Twitter account for a music promotions project. It was a project born of sheer interest, but things started to get interesting when Joe Satriani followed her Twitter account. Satriani was her fourth follower. Her interest suddenly became a business.
Musicians and music industry pros started to take notice of her work. This lead to the development of a great music network that included bands and solo artists from around the globe, publicists, magazine owners, radio hosts, and promoters.
Among those who took notice was Screamer Magazine, which lead to a writing gig, and new acquaintances in music. Before she knew it, Sommer was booking a weekly concert series, festivals, shows all over the midwest, and entertainment for Harley Davidson events.
Sommer has since become host/creator of the Rock Talk Podcast. The podcast has become a platform where she's leveraging her digital marketing expertise and music journalism experience to champion women in the music industry and arts. Our conversation also digs into the state of Rock Talk the podcast, Sommer's interest and work in music, technology, and women's advocacy.
"The industry is about money, not talent."
I believe it was Sommer who recently said to me, "The industry is about money, not talent." Although she wouldn't be the first to make this observation, we got a kick out of discussing it. It's a sentiment that we tend to agree with on many levels.
When I asked her to talk about the beginnings of her music interest, she shares a childhood story involving a 3rd grade girl with crazy hair, a Care Bears radio, and an Iron Maiden cassette. It's a story that provided inspiration for the intro of her Rock Talk Podcast. Hear the full story in this episode.
You can also hear this podcast on Apple Podcasts, iTunes, Stitcher, Google Play Music, iHeartRadio, YouTube & Spotify.
SHOW NOTES
Tom Tom Magazine
Margo Z, Cover Artist of Van Halen's 1984
Jay Vigon, Artist Designer
@chickenfootjoe Joe Satriani on Twitter 
Screamer Magazine
Bullet Boys
Performer Magazine
Revolver Magazine
Royal Bliss
The Brassy Broadcast with Jen Edds
Greg Marra
Iconoclast Music Podcast
Mira Goto
Susan Rogers
Lori Lee Love Your Story
Lisa Leuschner Andersen
Kid Andersen
Sleigh Consulting
Libsyn podcast hosting
Rock Talk Podcast Facebook Page
Rock Talk Podcast on Instagram
Rock Talk on Apple Podcasts