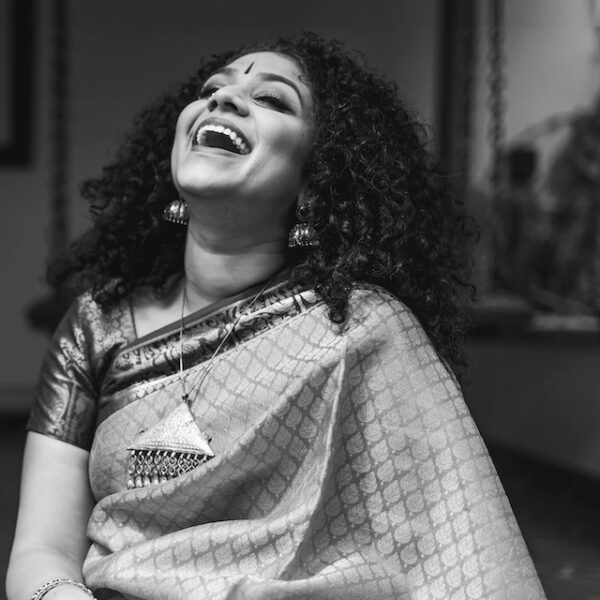 Roopa Mahadevan is a leading Indian classical vocalist and crossover artist in the South Asian diaspora. She's normally based out of New York City, but had temporarily relocated to San Jose, California during the pandemic. She has roots in the South San Francisco Bay Area, so the move was an easy one. Roopa collaborates with a myriad of artists in jazz, world music, and R&B/soul genres. She also performs full-length Carnatic vocal concerts and accompanies some of the world's leading South Asian dancer/choreographers.
We spoke about her then newish album Roopa In Six Yards: A Carnatic Playlist by Roopa Mahadevan. She shares her desire to do more albums with her crossover group Roopa In Flux and all the trepidation that comes with doing something new and different. We also chat about our mutual acquaintance with Bollywood blues artist Aki Kumar, who has appeared on this podcast three times.
Find links to most everything discussed in the show notes for this episode.
Find Roopa at RoopaMahadevan.com
There's a bit of cutting room floor chit chat at the very end of the episode, post credits. Hope you'll stick around for that. And I hope you enjoy my conversation with Roopa Mahadevan.
Support the Unstarving Musician
The Unstarving Musician exists solely through the generosity of its listeners, readers, and viewers. Learn how you can offer your support.
Mentioned in this Episode
RoopaMahadevan.com
Bijayini Satpathy on Instagram
Related Episodes
Aki Kumar Signs With Sony Music India (Ep 118)
Bollywood Blues Man Aki Kumar on Gratitude, Humility, and Band Dynamics (Ep 113)
Aki Kumar on Chicago Blues, Bollywood Blues, Harmonica, and Performing (Ep 23)
Resources

This episode is brought to you by Bandzoogle.
From garage bands to Grammy winners, Bandzoogle powers the websites for thousands of musicians around the world.
Plans start at just $8.29/month, which includes hosting and your own free custom domain name. Go to Bandzoogle.com to start your 30 day free trial. Use promo code "robonzo" to get 15% off the first year of any subscription.