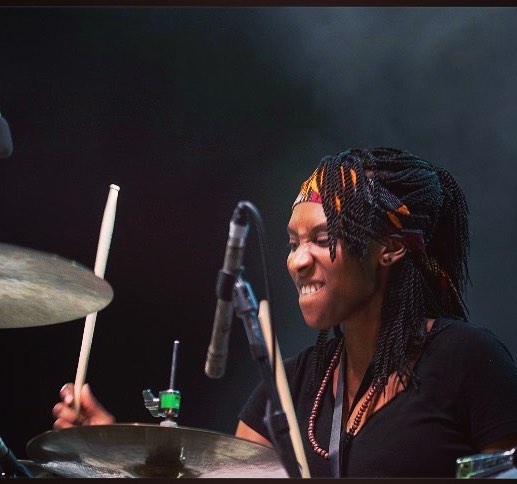 Camellia Akhamie Kies is an epic drummer and a new mom. She played drums throughout her  pregnancy and Camellia is now a case study as there weren't many, if any, expecting moms playing drums at her level during pregnancy.
A Navy Veteran, Camellia played for the US Navy 7th Fleet band. She's toured many countries in Asia and the Americas. She's performed on national TV in the U.S., is a teacher and a composer, and she has a strong social media following.
We commiserate about how self-limiting talk is something she deals with. She also shares how she approaches writing new songs and we talk about how we are coping with COVID-19.
Episode Highlights
We start by talking about growing up in Germany (4:46) and go on to discuss:
(12:36) The history of starting The Beach Drum Shed and Akhamie Music LLC
(20:36) The meaning behind Akhamie's name
(23:50) Her strategic approach to growing her social following
(32:15) How teaching and DJing are part of her life
(36:50) Online teaching and what it looks like in her future
(49:50) Her singles-release plan for the year
(53:30) How COVID-19 changes production and performance
Quotable
"The timeline is gonna change, but I can make this happen by myself. For the most part, you can do it all yourself."
—Camellia Akhamie Kies
Mentioned in this Episode
Support the Podcast
The Unstarving Musician exists solely through the generosity of its listeners, readers, and viewers. Visit our Crowd Sponsor page to learn how you can offer your support.
MUSICIAN RESOURCES
Visit my Resources page for more musician resources.
Pardon the Interruption (Disclosure) 
Some of the links in this post are affiliate links. This means I make a small commission, at no extra charge to you, if you purchase using those links. Thanks for your support!

This episode is brought to you by Bandzoogle.
From garage bands to Grammy winners, Bandzoogle powers the websites for thousands of musicians around the world.
Plans start at just $8.29/month, which includes hosting and your own free custom domain name. Go to Bandzoogle.com to start your 30 day free trial. Use promo code "robonzo" to get 15% off the first year of any subscription.