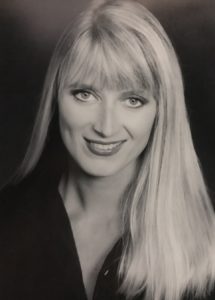 Also available on iTunes, Stitcher & Google Play Music
Terry LaPorta says her daughter's singing started out as a hobby, but that by age 11 she was performing in Nashville honky-tonks. Her now 16-year old daughter Samantha has since become a Disney Radio artist, and is showing little sign of slowing down. In fact, with the new release of It's a Girl Thing, Samantha LaPorta (featured in episode 24) appears poised for a rapid rise in popularity. In this interview, Terry shares stories of her daughter's journey and what it's like to be her parent and career manager. She also shares useful tips for other parents whose children have Samantha's level of talent and potential. Terry was in the entertainment business as child, which gives her an advantageous perspective. She also brings a working mom's perspective to the table as a career professional in the healing arts. In spite of these perspectives, Terry has had to learn a great deal about many things, including the music business, social media, artist development, and the art of protecting and preserving her pop star daughter's youth. She and her husband were savvy enough to create a college fund for Samantha, and were also forward thinking enough to lay groundwork for Samantha's social media presence, before her career began to show signs of traction. Perhaps the one most insightful thing Terry has done for her daughter, has been to ensure that she has always had an out. As much as she's excited for her daughter's career, Terry has never wanted Samantha to feel the pressure that comes with lack of choice where her life and music career are concerned.
Challenges & frustrations
Terry attributes much of the success she's shared with her daughter Samantha to video courses offered by music business educator Rick Barker. She spoke very highly of the content that Rick offered, much of which was free on YouTube.  We also talk about the challenges and frustrations that she and Samantha have faced. Most people in touch with the music business have come to understand that artist development by record labels is a thing of the past. Terry in fact says it's all up to the artist, or in her daughter Samantha's case, it's all up to the family. She also speaks candidly about the fact that the music business is numbers driven. I suppose this could be said about most if not all businesses. Even so, she feels that there are many positives in the music business, including people who are willing to share what they've learned.
Recommendations for parents and their talented children
When I asked what recommendations she had for other parents in her boat, she started off by admitting had she known how much money she'd spend on Samantha's endeavors, she probably would have run in the opposite direction. She laughs and admits, however, that it's been a very gradual investment. Two recommendations she shared were on recording albums and social media. Terry has learned that recording an entire album is probably not a good idea for young artists, as they're likely to have a completely different sound from the time an album project is started to the time it's completed and marketed. Self-motivated behavior is something Terry believes parents should look for as a sign that a professional music career is right for their child. Her advice on social media–start by choosing three channels, get familiar with them, and identify the one you like best. Once you find your favorite social channel, share real moments, like rehearsal performances. Finally, she says it's about baby steps, or as I like to say, it's a long game.
Support the Unstarving Musician
The Unstarving Musician exists solely through the generosity of its listeners, readers, and viewers. Learn how you can offer your support.
Mentioned in this Episode
Resources