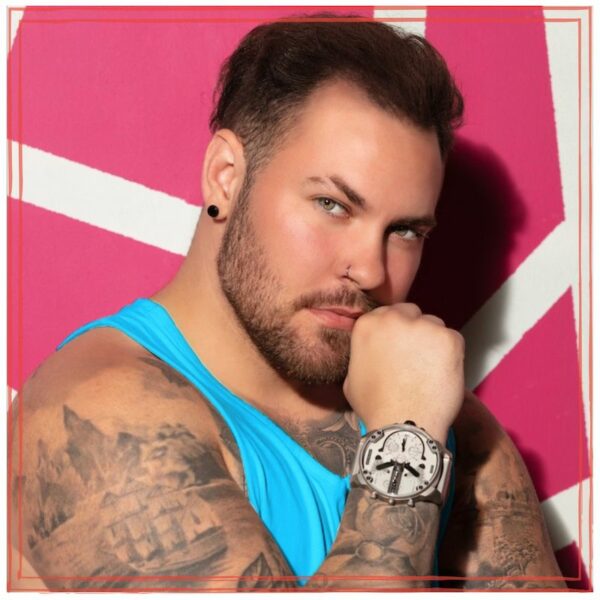 Carter Ray is described as a cinematic raconteur, colorful, charismatic, and entertaining.
He recently released a single called Forever Plus One (Feb. 10, 2023), which is a cross-genre, EDM inspired ballad, a declaration of unity to span a lifetime.
In 2014, Carter began documenting his transition from female to male, on the internet, in hopes of raising awareness and to help spread a message of love, validity, and the belief that no dream is too big, a message he badly needed growing up. He is now the first trans male to host his own night, "Heavenly Bodies," at The Church at The Abbey in West Hollywood, showcasing incredible trans talent and representing the community in a very elevated way.
With an award for best drama at the QueerX LA Film Festival for his debut short film The Change Up, over 500,000 social media followers, and thousands of music streams, Carter is a beacon of light and an influential advocate for the LGBQ+ community.
In our conversation, Carter and I talk about how acting led to his accidental start in music, headlining Gay Pride 2022, his monthly showcase in West Hollywood, his latest single, the inspiration for his first film, his merch ideas, and tips on getting better gigs, social media marketing, and content creation, and much more.
Super nice guy! I enjoyed learning about his journey.
Please enjoy my conversation with Carter Ray.
Support the Unstarving Musician
The Unstarving Musician exists solely through the generosity of its listeners, readers, and viewers. Learn how you can offer your support.
This episode of the was powered by Liner Notes.
Learn from the hundreds of musicians and industry pros I've spoken with for the Unstarving Musician on topics such as marketing, songwriting, touring, sync licensing and much more. Sign up for Liner Notes.
Liner Notes is an email newsletter from yours truly, in which I share some of the best knowledge gems garnered from the many conversations featured on the Unstarving Musician. You'll also be privy to the latest podcast episodes and Liner Notes subscriber exclusives.
Sign up at UnstarvingMusician.com. It's free and you can unsubscribe at anytime.
This episode was powered by Music Marketing Method, a program for independent musicians looking to grow their music career.
Music Marketing Method was created by my good friend Lynz Crichton. I'm in the program and I'm learning tons! I'm growing my fan base and learning about many ways that I'll be earning money in the new year. It's also helping me grow this podcast. How cool is that?
To lean more and find out if Music Marketing Method can help your music career, visit UnstarvingMusician.com/MusicMarketing.
Mentions and Related Episodes
Fia Nyxx – PR, Marketing, Common Indie Artist Struggles, Video Collaboration, Release Strategy, Recording Studio Lessons, Confidence Through Repetition, And Theatrical Performance (Ep 244)
Blackbird performed by Robonzo & Eduardo Hallar (video)
How to Use Logic Pro X: The Ultimate Guide for Beginners by SoundWow.com
Writing and Recording Music for the First Time in Years
Dave Hamilton on Music Theory, Home Recording, The Business of Music, and Divas (Ep 13)
Paul Kent Talks The Houserockers, Gig Gab, Relationships, and Music Collaboration (Ep 9)
Stay in touch!
Leave voice feedback on Robonzo's Speakpipe page
Resources
The Unstarving Musician's Guide to Getting Paid Gigs, by Robonzo
Music Marketing Method – The program that helps musicians find fans, grow an audience and make consistent income

Podcast Startup – The podcast learning platform for creative voices
Bandzoogle – The all-in-one platform that makes it easy to build a beautiful website for your music
More Resources for musicians
Pardon the Interruption (Disclosure) 
Some of the links in this post are affiliate links. This means I make a small commission, at no extra charge to you, if you purchase using those links. Thanks for your support!

This episode is brought to you by Bandzoogle.
From garage bands to Grammy winners, Bandzoogle powers the websites for thousands of musicians around the world.
Plans start at just $8.29/month, which includes hosting and your own free custom domain name. Go to Bandzoogle.com to start your 30 day free trial. Use promo code "robonzo" to get 15% off the first year of any subscription.