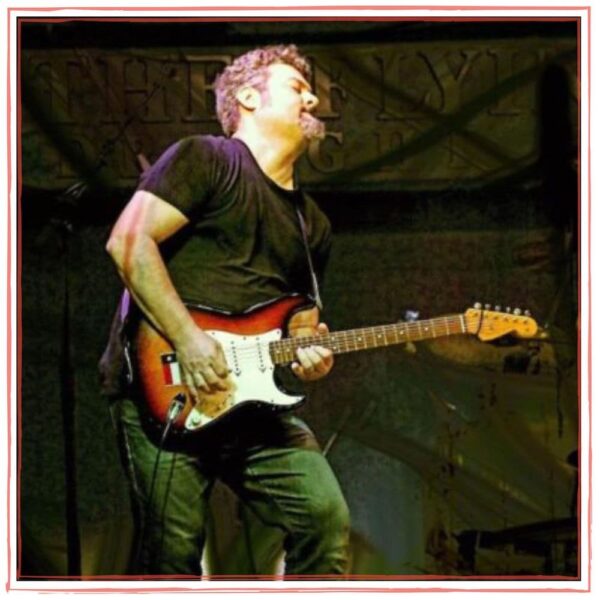 This episode features musician and recording engineer Chris Raspante. It's a second look at our conversation recorded in May of 2017. It's a rewind episode, in which I dig deeper into past conversations. It's also an attempt to uncover insights that were perhaps lost in our collective note taking. This is intended to better serve you and the rest of the professional music community.
Hear the very first rewind episode featuring Mike Dawson.
Chris has worked with many well known Nashville artists including Travis Tritt, the Dixie Chicks and Stan Lynch among others. His successes stem from a leap of faith, putting in the work, playing the long game and a little luck.
The conversation begins with how Chris got his start in Nashville as a recording engineer and session player. It's a discussion on how be became sought after engineer and player. Chis was invited in the late 90s to visit and work with friend  and professional songwriter Jon Christopher Davis. The invitation was specifically to work with Davis on song writing demos and to meet people in the Nashville scene. Chris took Davis up on the invitation and commuted between Dallas-Fort Worth and Nashville for over a year. He was almost immediately invoicing Davis' record label for recording work. Chris reflects on this time as a period as his slow but sure entry into the Nashville music business. Referrals eventually began to come his way, increasing his visibility and income.
Chris also reflects on the changes that occurred during his time in Nashville and the man y changes that have happened since. He describes the landscape of music and work as very competitive. He also recalls overcoming objections that came at him for using a home studio setup. Recording in a home studio wasn't yet a thing, but it soon would be. Chris shares details of the studio setup and recording methods he was using, methods that would eventually become common in recording.
Tagging along for sessions with Davis lead to meeting people in the business and opportunities to make studio contributions. People in the business started asking for Chris. He says he was doing all this by the seat of his pants, but I suspect it was more intuitive than he gives credit.
Then a stroke of luck happened when Chris was invited to join Jace Everett to perform on the Tonight Show with Jay Leno. Chris had worked with Jace on the recording of a song called Bad Things, which caught the interest of the Tonight Show. That same song would also catch the interest of HBO and would eventually become the theme song for the hit series True Blood. Chris says he was the only non a-list player to work in the those album session, an opportunity he attributes to his friendship and working relationship with Jace Everett. He also says it was all a lucky fluke that the Everett was picked up by the Tonight Show and True Blood, but even more so that he and several others were taken along for the ride.
As we discuss the significance of being an indie musician, Chris noted that the industry was changing dramatically every couple of years. This pace of change has obviously continued since. But it was the internet that changed everything in Chris' memory. The internet shifted  the focus from music sales to live shows and fanbase development. The album became a glorified business card for everything else artists do, a reality that's still true today. On the upside of all these changes, Chris feels that the live music industry flourished.
As we discuss marketing himself, Chris states simply that networking and reputation are everything in music. He adds that if you're nice, fun, dependable and prepared, good things will happen. After re listening to our conversation, I decided that he could add humility to this list. Chris has plenty of it.
Hear my full conversation with Chris recorded in May of 2017.
Support the Unstarving Musician
The Unstarving Musician exists solely through the generosity of its listeners, readers, and viewers. Learn how you can offer your support.
Mentioned in this Episode
Jace Everett – Bad Things (Official Video)
Mike Dawson on Gigging, Studio Gear, Music Ed, Early Music Influences, Marketing, and YouTube (Ep 1)
Chris Raspante on Serendipity, Networking, Reputation, Nashville, and The Wonders of Today's Talent (Ep 002)
Making Music with an Open Heart and Mind – Jon Christopher Davis
Crossing Paths with Jace Everett
Stay in touch!
Leave voice feedback on Robonzo's Speakpipe page
This episode is powered by Podcast Startup, the learning platform for creators with a voice.
Podcast Startup covers tech, production, editing, marketing and more. I know what it feels like to be slowed down by challenges revolving around fear, procrastination and tech, yet I've recorded and published over 260 podcast episodes.
To learn more about Podcast Startup and to get free podcasting startup tips right to your inbox, go to UnstarvingMusician.com/PodcastStartup.
This episode was powered by Music Marketing Method, a program for independent musicians looking to grow their music career.
Music Marketing Method was created by my good friend Lynz Crichton. I'm in the program and I'm learning tons! I'm growing my fan base and learning about many ways that I'll be earning money in the new year. It's also helping me grow this podcast. How cool is that?
To lean more and find out if Music Marketing Method can help your music career, visit UnstarvingMusician.com/MusicMarketing.
Resources
The Unstarving Musician's Guide to Getting Paid Gigs, by Robonzo
Music Marketing Method – The program that helps musicians find fans, grow an audience and make consistent income

Podcast Startup – The podcast learning platform for creative voices
Bandzoogle – The all-in-one platform that makes it easy to build a beautiful website for your music
More Resources for musicians
Pardon the Interruption (Disclosure) 
Some of the links in this post are affiliate links. This means I make a small commission, at no extra charge to you, if you purchase using those links. Thanks for your support!

This episode is brought to you by Bandzoogle.
From garage bands to Grammy winners, Bandzoogle powers the websites for thousands of musicians around the world.
Plans start at just $8.29/month, which includes hosting and your own free custom domain name. Go to Bandzoogle.com to start your 30 day free trial. Use promo code "robonzo" to get 15% off the first year of any subscription.