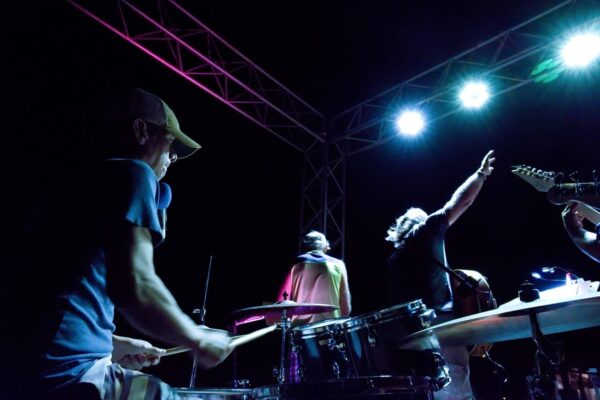 This is the third installment and re-release of The Unstarving Musician's Guide to Getting Paid Gigs. The episode is dedicated to chapters five and six, in which I discuss the importance of managing your gig schedule and boosting that revenue stream.
Episode Highlights
Gaining control of your gig schedule, creating multiple sources of income, and increasing your demand are among the topics I explore in chapters five and six.
How to carefully manage your schedule while working with multiple bands
The various benefits of working with multiple bands
How to share the marketing load
Tips on how to meet and work with other musicians
The right questions to ask when considering new venues
The benefits of subbing and how to do it successfully
3 Key Points
1. Staying creative requires routine, discipline and practice.
2. Surround yourself with good musicians and be a nice person in return.
3. Everything is easier when you're well practiced and good at your craft.
Quotable
"Every new musician you meet is a likely asset to your network. Being a nice person [to other musicians] will pay dividends."
–Robonzo, The Unstarving Musician's Guide to Getting Paid Gigs

"If you want to fill your gig calendar, you'll give yourself a huge advantage by having a good learning and practice routine. Take lessons and practice, practice, practice."
–Robonzo, The Unstarving Musician's Guide to Getting Paid Gigs

"Build your confidence account by taking your playing seriously. It'll help you get the good gigs and lots of them."
–Robonzo, The Unstarving Musician's Guide to Getting Paid Gigs
Mentioned in this Episode
Related Episodes
The Unstarving Musician is committed to sharing the best tips and information of other music professionals to help musicians do more of what they love – make music. Our weekly podcasts features in depth discussions with musicians and music space professionals discussing music creation, marketing, and business tips. All this is made possible by the contributions of individuals like you in our shared community who love making music.
Patreon is a bit like Kickstarter, but instead of culminating in one large project, it's a way of crowdfunding ongoing creative endeavors. Patreon also serves as a community site where supporters can communicate and discuss new creations.









MUSICIAN RESOURCES

This episode is brought to you by Bandzoogle.
From garage bands to Grammy winners, Bandzoogle powers the websites for thousands of musicians around the world.
Plans start at just $8.29/month, which includes hosting and your own free custom domain name. Go to Bandzoogle.com to start your 30 day free trial. Use promo code "robonzo" to get 15% off the first year of any subscription.
*Full Disclosure: This post contains affiliate links. If you purchase products using these links, I'll earn a small commission at no extra cost to you. Thanks for your support!