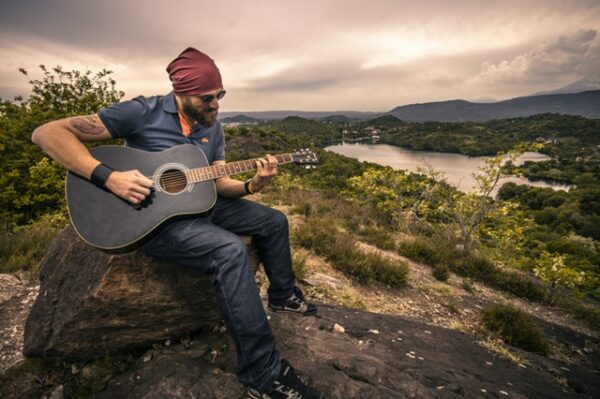 Creative block is a thing, but it doesn't have to be. In this episode, I share the one tactic for overcoming creative block practiced by most music artists I've interviewed for this podcast. I also share tips for getting out of your own head, which can help you get out of your own way.
I spoke with two indie artists earlier this week, each w ith unique situation. Both are on the cusp of big projects. Both want to move their careers forward. Both face obstacles.
Their challenges are slightly different, but in both cases–their standing in their own way. It's a common dilemma. I do it all the time. These conversations reminded me of the following.
We need to get out of our own heads sometimes
Creativity is less about inspiration than it is about discipline
Getting Out of Your Own Head
In the case of my two indie artist friends, accountability would be a huge help. Great places to find accountability are through coaching, mastermind groups, and songwriting groups. Each of these offers a slightly different approach to accountability, but all three offer an opportunity to get out of your own head. This naturally happens by virtue of interaction with peers and in some cases mentors. Adding accountability to the mix can also help establish, fine tune and achieve your career goals.
Sometimes the only thing needed to get out of our own head is human contact. Depending on your situation, volunteering for another artist that inspires you might be the solution.
Hear how Jana Pochop did exactly this to propel her own career and side-hustle as a social media consultant for musicians. Click here to listen to our conversation on the podcast.
Or maybe all you need is to attend or host an open mic or pro jam. These are fantastic places to connect with people who can help and inspire you. Maybe a songwriting group is your thing. Songwriting groups not only motivate and provide accountability, but they can help you develop some needed discipline. This takes me to my next point.
Creativity and Discipline
Also inspired by the aforementioned calls, creative writers block and creative procrastination. If you're not feeling inspired, stop waiting to feel inspired. Waiting for inspiration is procrastination at its finest. Instead, be proactive. Set an appointment with yourself to write. This is exactly what artists like Shannon Curtis and Lynz Crichton do. Make an appointment to write something crappy. It's the only way you'll every write anything good. Ten good pages for every one good one, right? Use a notepad or your phones voice memo app for moments of inspiration.
A Daily Writing Practice
Make a daily routine of object writing every morning. Do this before you look at your devices, before you check your social media or email. Put pen to paper and write something free form for 10 to 20 minutes. Set a timer and don't edit yourself. Pete and Crystal Damore of Ordinary Elephant turned me on to object writing. Read about it here, and listen to my conversation with the Damore's here. Pete and Crystal also talk about songwriting workshops.
Here's a video explanation of object writing by Sarah Crookall.
If you're interested in or need a little help getting started with a mastermind group, songwriting group, or coaching, contact me. I'm willing and able to provide you with useful guidance.
[Full Disclosure: This post may contain affiliate links. If you purchase products using these links, I'll earn a small commission at no extra cost to you. Thanks for your support!]
SHOW NOTES
RELATED EPISODES
RESOURCES FOR MUSICIANS